SQL Server Management Studio comes up with multiple standard reports that show basic performance information. These reports are available without any additional installation and with no extra configuration.
But if you think this is not enough, Microsoft lunch Performance Dashboard Reports with SQL Server 2012.
Let's deploy and configure Performance Dashboard Reports
a. You can download Microsoft SQL Server 2012 Performance Dashboard Reports setup http://www.microsoft.com/en-us/download/details.aspx?id=29063
b. Run setup with admin privileges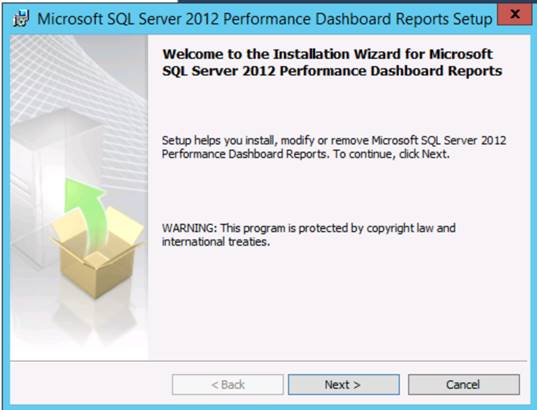 Click Next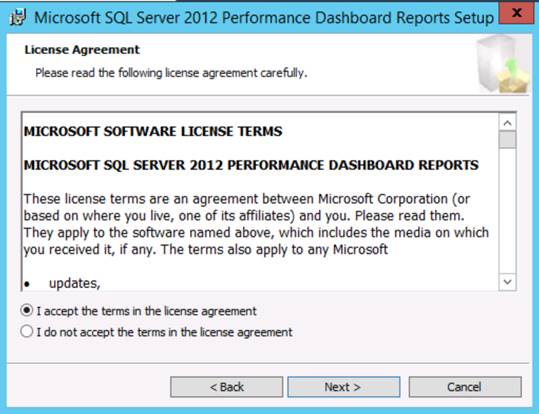 Select "I accept the terms in the license agreement" and click Next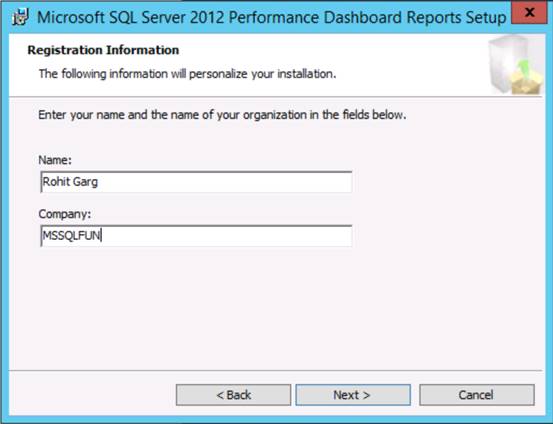 Enter your & your organization name and Click Next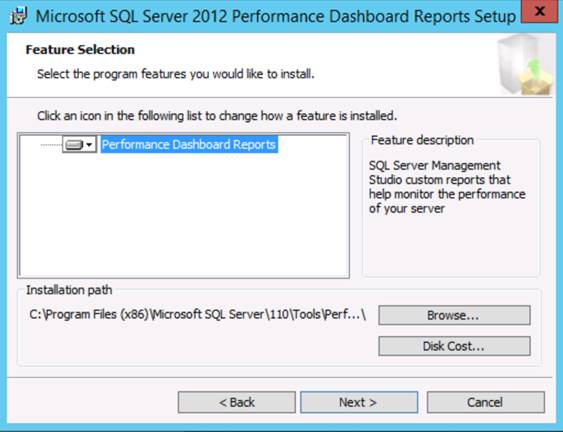 Click Next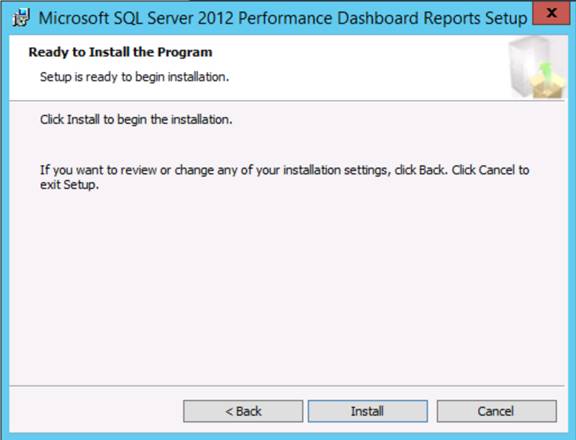 Click Install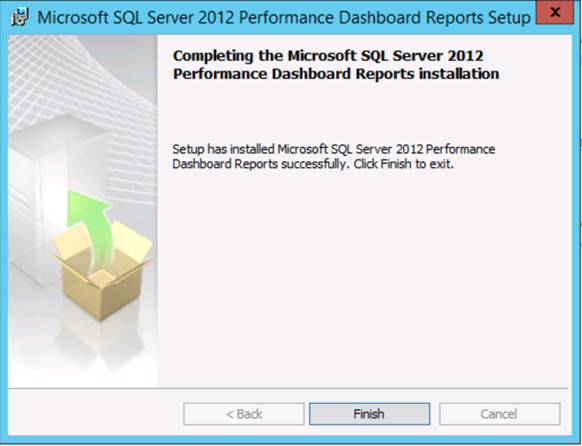 Click Finish, Installation Completed
c. You have to execute setup.sql using SQL Server Management Studio (SSMS), open the setup.sql script from your installation directory (default of %ProgramFiles(x86)%\Microsoft SQL Server\110\Tools\Performance Dashboard) and run the script. Close the query window once it completes.

d. In the Object Explorer pane in SSMS, right mouse click on the SQL Server instance node, then choose Reports-Custom Reports. Browse to the installation directory and open the performance_dashboard_main.rdl file.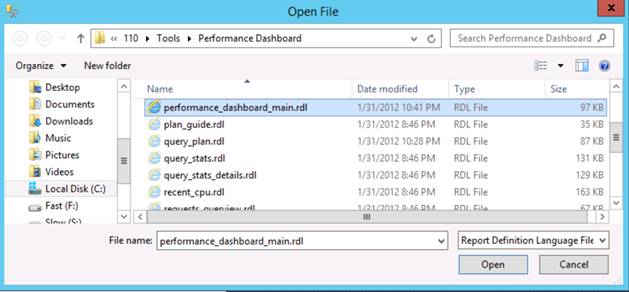 Select "performance_dashboard_main.rdl" and click open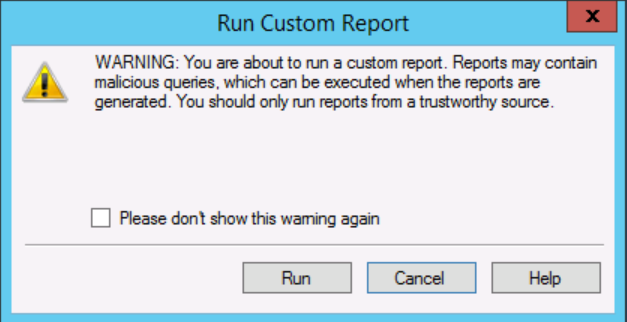 Click Run, You will get your report.
e. Now your report is configured and you can get it through right mouse click on the SQL Server instance node, then choose Reports- performance_dashboard_main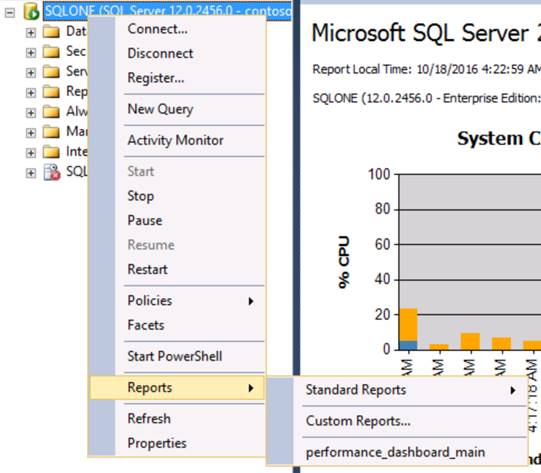 f. Performance Dashboard Main Report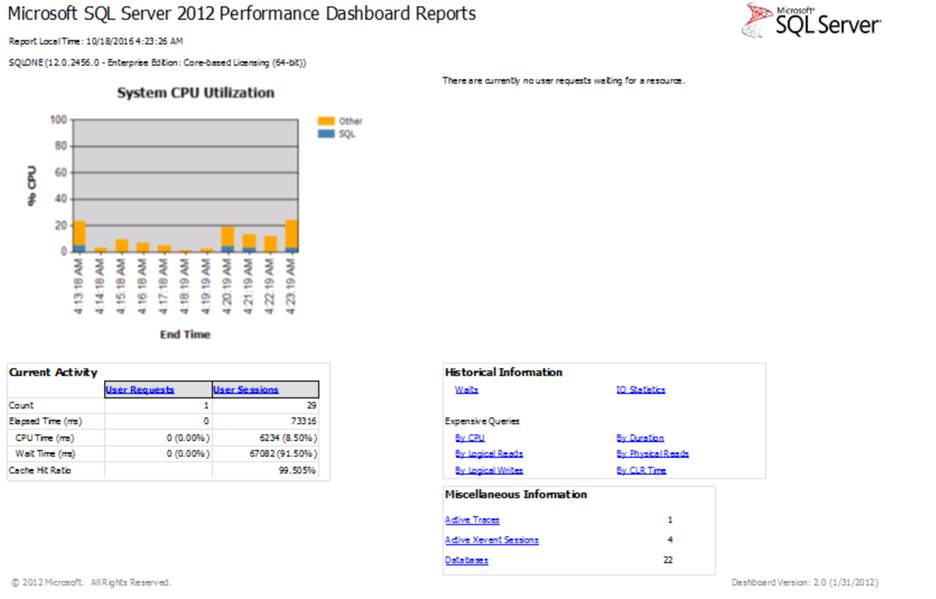 Reference: Rohit Garg (http://mssqlfun.com/)
You can find and follow MSSQLFUN:-
http://www.facebook.com/mssqlfun
Other Linked Profiles :-
http://social.msdn.microsoft.com/Profile/rohitgarg
http://www.sqlservercentral.com/blogs/mssqlfun/
http://www.toadworld.com/members/rohit-garg/blogs/default.aspx
Issue: While running powershell in SQL agent job step, I am getting below error: –
A job step received an error at line 3 in a PowerShell script. The corresponding line is '$space.ForegroundColor = $host.ui.rawui.ForegroundColor'. Correct the script and reschedule the job. The error information returned by PowerShell is: 'Exception setting "ForegroundColor": "Cannot convert null to type "System.ConsoleColor" due to invalid enumeration values. Specify one of the following enumeration values and try again. The possible enumeration values are "Black, DarkBlue, DarkGreen, DarkCyan, DarkRed, DarkMagenta, DarkYellow, Gray, DarkGray, Blue, Green, Cyan, Red, Magenta, Yellow, White"." '. Process Exit Code -1. The step failed.
Solution: This error occurs while you are using clear screen option in script part of SQL agent job step. Please check your script and remove cls or clear-host keywords.
I removed it and it start working fine.
Reference: Rohit Garg (http://mssqlfun.com/)
You can find and follow MSSQLFUN:-
http://www.facebook.com/mssqlfun
Other Linked Profiles :-
http://social.msdn.microsoft.com/Profile/rohitgarg
http://www.sqlservercentral.com/blogs/mssqlfun/
http://www.toadworld.com/members/rohit-garg/blogs/default.aspx